Designation:
IDSE-RB-50 Sledgehammer - IDS Blast Cannon
Purpose:
To create a blast cannon that features the trademarked dual XCiter design of other Intragalactic Defense Systems guns. Also, this blast cannon will utilize a unique barrel mechanism enabling the gun to adjust the degree of spread.
Application:
Blast cannons aren't terribly different from blasters. They operate in much the same fashion except an extra step in the firing process splits the bolts into multiple shots that leave the barrel at (near) the same time. This gun once again features the parallel XCiter design, giving it a much faster rate of fire than what is typically found on blast cannons. This can be particularly useful against numerous foes and rapid room clearing.
To further enhance the design of this gun and overcome the weakness of most blast cannons, a modular barrel adjustment system allows the sledgehammer to switch between seven bolts being fired in a blast cannon fashion or a single, larger bolt that essentially combines all seven shots into one supercharged shot that fires through the larger bore in the barrel. It's a modified concept of the
Bryar pistol
except here, the charged shot isn't directed through the splitter and through the smaller bores in the barrel but rather through a secondary charging sequence to further enhance the power.
Schedule:
5 weeks design
4 weeks prototype fabrication
5+ weeks testing
Visual Description: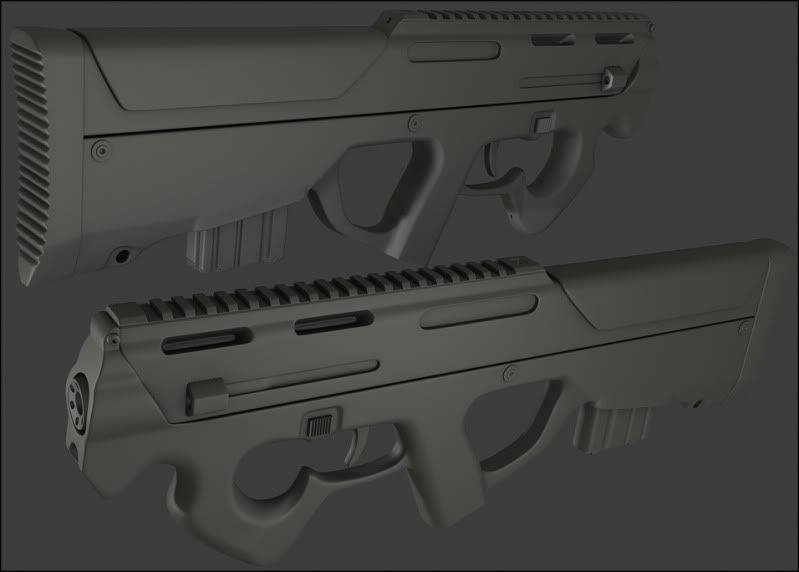 Technical Specifications:
Name/Type:
RB-50 Sledgehammer
Designer/Manufacturer:
Luciana Endivain / Intragalactic Defense Systems
Designation:
Blast cannon
Size:
48.5 cm
Mass:
3.6 kg (loaded)
Effective Range:
30m (100m single shot)
Fire Modes:
Semi-automatic - Blast cluster mode and supercharged setting.
Damage Rating:
60 total per blast cluster and 80 on supercharged setting
Magazine:
32 (blast clusters)
Ammunition:
Blaster Powercell
Standard Price:
4,500 Cr
In a radical departure from most blast cannons, the Sledgehammer was designed with compactness in mind. Despite it's short size, the bullpup configuration allows the blast cannon to maintain a longer barrel length than any sawed-off slug-gun (shotgun).
The top rail can be fitted with scopes, visual aids or tactical lights as desired.
Each pull of the trigger releases 7 bolts or one really powerful bolt.
Weaknesses:
Limited to point-blank to medium range only.
Relatively small magazine.
The supercharged bolt has a slower rate of fire than the blast cannon mode equal to roughly half the fire rate.
Proposed Upgrades:
Enable the blast cannon to fire more shots per blast cluster.
EDIT 1 - Clarified magazine size. Also added single shot effective range.
EDIT 2 - Clarified blast clusters and DR.
EDIT 3 - Minor clerical changes.