((OOC Note: Old Character returning from the grave.))
In-Character Information:
Name:
Isolder Xancor
Pronunciation:
Is'ole'dare Zan'core'
Rank:
Army Captain
Species:
Hapan
(Near-Human)
Gender:
Male
Age:
25
Physical Description:
Height:
6' 2"
Weight:
200 Pounds
Hair:
Blonde
Eyes:
Blue
Build:
Lean
Troop Type:
Stormtrooper
Weapon of Choice:
-E-11 Blaster Rifle
-The
Heartsong
Location:
NSD Nemisis
Personality:
Isolder, like most Hapans, is far more beautiful than most people, but when he brags it is always about his deeds not his looks. Due to his Hapan upbringing he has a tendency to defer to the fairer gender and often says, 'Ma'am' when speaking to one. He is an intelligent individual as well as having 'street smarts'. He is a sweet, kindhearted individual with a bit of an ego. Taking risks and leaping head first in danger heedless of the risks to himself. He is extremely talented and is a bit of a show off. Even if you hold all his flaws against him, he is a stand up and likeable guy. To relax he is either hanging out in the Lounge, practicing with his sword, talking with friends or, on rare occasion, playing the piano. His voice has a very beautiful if faint trace of his Hapan accent.
Bio:
Isolder Xancor was born on the beautiful world of Hapes in the Hapes Consortium, 7 years before the Battle of Endor. He was born into a loving family with his mother, father, and his older sister. Isolder had always been a fighter, on Hapes his favorite past time was dueling with hand and swords, even at a young age. Training with swords, blasters and hand to hand combat was his childhood and he loved it. Since his mother, as the woman of the house hold, ran things in Hapan culture his father had more time to devote to his training.
When Isolder fought he rarely lost, and shortly after his tenth birthday Isolder entered the Hapes Dueling Tournament. His prowess in the ring earned him much attention even from a young noble woman who's family hosted the tournament. In the end he beat his final opponent for victory and a kiss from the young noble girl, her name was Erica Starsong. It was, what he believed, the last time he would ever see her. She was his first true love known from a few moments close to her and his first kiss long remembered.
After that his training intensified he won every year for five years running, a still unmatched achievement. Isolder became a publically known face in the Consortium, his likeness adopted for Ads and cameos. When he turned fifteen he retired from the Swordsmanship Tournament. For his great achievements and victories in the ring he was given one of the finest Vibroswords ever made. Forged in the volcanic fires of Hapan world of Carlania, It's blade was made of lightsaber resistant phrik. After he left he had it beautifully engraved in memory of his battles and love. The inscription, in an ancient dialect of Hapan, said,
"The song of the heart and the song of war are both whispered along the same gentle breeze...It is a place where war and art flow as one, and one cannot tell where one passion ends, and the other begins..."
He named the blade, the
Heartsong
.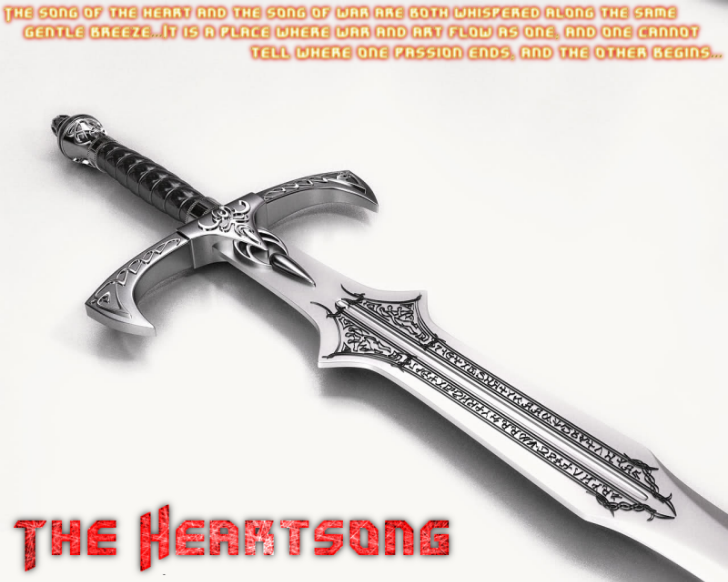 As he grew out of the tournament he started to take everything more seriously, his training intensified. A master with a sword, he devoted himself to learning about blasters and marksmanship, but always had his trusty blade, just in case. At the age of sixteen, Isolder lied about his age and joined the Hapan Army. His Mother was displeased at first as was his sister, but they got over it and supported him fully like his father did. He flew through basic training with flying colors.
His first assignment was aboard a
Hapan Battle Dragon
where he was one of the ground troops stationed aboard to handle any action that was required. He first went into action against pirates still common in the Hapes Cluster. By the time he had reached the age of twenty-two he was already commanding troops in battle. The day to day action of capturing pirates and raiders in the Transitory Mists became boring and dull for the aspiring Major. Finally he became too bored with just the battle against the pirates.
Isolder left the Hapes Cluster and traveled the galaxy for two long years, working as a bounty hunter, a ring fighter, and whatever other jobs he could find in the galaxy at large. Eventually though he finally settled on Eriadu, in the New Imperial Federation. Isolder joined the Federation Army in hopes of more action than he had previously seen in the Hapan Army. His standard Stormtrooper Armor was been painted jet black, which to his Hapan eyes reminds him of home. Ship to ship combat was his specialty but a little dirt on his feet didn't bother him either.
Upon joining the New Imperial Federation he found more action than he could have ever hoped for. His first mission was part of the operation to capture the Shockwave-class Battlecruiser
Emperor's Rage
, he performed admirably and was promoted. It was during this mission that he met a face from his past. A fellow Hapan, an AT-AT pilot by the name of Erica Starsong. The young noble woman who had stolen his heart so long ago. He was immediately attracted to her again and tried to talk to her at every chance he got.
Then just a few weeks later a major engagement was fought between the New Republic and the New Imperial Federation over a contested planet. She, always the stubborn Hapan woman, tried to spur him a every corner. Until finally during a major engagement on the on a outer rim planet he saved her life. On the grassy plains outside of the planet's shield generator her AT-AT was badly hit and collapsed. Risking his life he rushed out and pulled her from the burning wreak age inside the facility. He provided medical care until she could be evacuated.
As she was carried away she gave him a kiss show that she did indeed car. He distinguished himself above and beyond the call of duty during that mission earning himself a promotion to Army Captain, and he was awarded the Army Commendation Medal. After the mission the two had a reunion and carried on a relationship from there, until that is, a few weeks later,
He went to see her in her quarters and when the conversation turned to his sword she got angry for reasons he still doesn't understand to this day. She gave him an ultimatum, "Me or the Sword." He went back to her, dropped to his knees and offered the sword to her forever. She spurned him, unbeknownst to him at the time, she had meant for him to break the sword. If had known he would have. Thus ended his first true love forever.
Heartbroken he returned to work, fighting got the New Imperial Federation as long as he could. When he couldn't stand being near her any longer though he requested a leave of absence and returned home to Hapes Cluster to help his people with the civil disorder they were experiencing. There he stayed for the next few months joining police to help restore order to no avail. Then out of nowhere the New Imperial Federation came and installed Tenel Ka to the throne as the new Queen Mother.
Isolder welcomed this and joined the battle on the side of the Federation, fighting for a new order for his people. After the battle there was chaos. Former Queen Mother Ta's Chume was kidnapped and rescued from rebel forces and worse. The Former Rulers, Prince Isolder and former Queen Mother Teneniel Djo escaped and are still to this day at large. The nobility was in uproar, it was chaos. No matter how much he wanted to return to the New Imperial Federation he could not. His people needed him and he would not forsake them to the chaos.
Even though he was just a man in the woman dominated Hapes Consortium, his support made a difference. Still a popular figure from his youth he used his fame to help bring the people back under control. Isolder came out of sword sparing retirement for one match against the champion. Xancor won hands down with a swift three strike combo and a blow to his opponents back after three rounds. After that he returned to helping his people rebuild.
A few months later he received a message from Erica. She apologized for what she had done and how she regretted breaking his heart. He had gotten over her in the intervening time but she was still dear to him. She told him she wanted to talk to him when she returned from a mission and to wait for her call. It was a call that never came. Three days later he heard the news about the Battle of Sarapin, a brief glance through the list of casualties told him all he needed to know. Erica Starsong, his first true love, was marked as missing in action and presumed dead.
Isolder Xancor when to her family's home two days later and attended her funeral. It was an empty casket. Her body was never found, some people might have believed she could still be alive. Isolder wasn't that foolish, she was dead and gone now. Truly, just a memory. He returned to his family home and began to set his things in order. A month and a half later he was cleared to leave Hapes Consortium. Isolder packed up his bag and headed for the door. He kissed his Mother goodbye and then kissed his older Sister goodbye. Isolder shook his father's hand and said goodbye. The next day Isolder was on a flight back to New Imperial Federation territory. Upon his arrival he reactivated his commission and got back to the task at hand
Out of Character Information:
E-mail Address:
LockNesTom@comcast.net
Contact Info:
Devan Kronos
How did you find out about us?:
Been here forever.